Five Guys Dundrum is at the Dundrum Town Center. Five Guys is in Dublin with 4 stores open across the city: 1 north, 1 center and 2 south of the river Liffey (Dundrum Town Center and Frascati Shopping Center).
Order Five Guys Dundrum with our Deliveroo discount code to get €8 off your orders ? Deliveroo promo code ?.
Five Guys Dundrum
Five Guys Dundrum is open for take-away and delivery service only from 28th December. Get ready for the real carnivore heaven! Five Guys Dundrum Burger and Fries is open with lots of parking space!
Dundrum Town Center
The center is temporarily closed with the exception of essential retail. Takeaway and delivery is available from participating restaurants and cafes, including
Five Guys in Dublin
There are four locations in Dublin. Get delivery from Five Guys super-fast to your door. Order online and track your order live. Get €8 off your orders ? Deliveroo promo code ?.
The Five Guys chain apparently looks like other fast food: Mcdonald's, KFC, Burger King or SuperMac but that's not a correct picture! If you're looking for a place different from the usual where you can taste new beers not on sale elsewhere Guinness Open Gate Brewery is your place.
South Great George's Street
56 South Great George's Street, D02HF50
Dundrum Town Center
Dundrum Town Centre, Sandyford Rd.
Frascati Shopping Center
Frascati Shopping Center, Frascati Rd.
Pavilions Shopping Center
Swords Pavilions Shopping Center, Malahide Rd, Co. Dublin
Five Guys delivery Dublin
Get Five Guys delivered to your home with Just-eat or Deliveroo.
Use our discount codes to save on your orders.
Burger grilled on-the-fly
Five Guys cooks your order while you wait, there is no precooked food waiting for you like at McDonalds. This applies to their hamburgers and hotdogs as well. French fries are the only not cook-to-order due to the large volume they sell.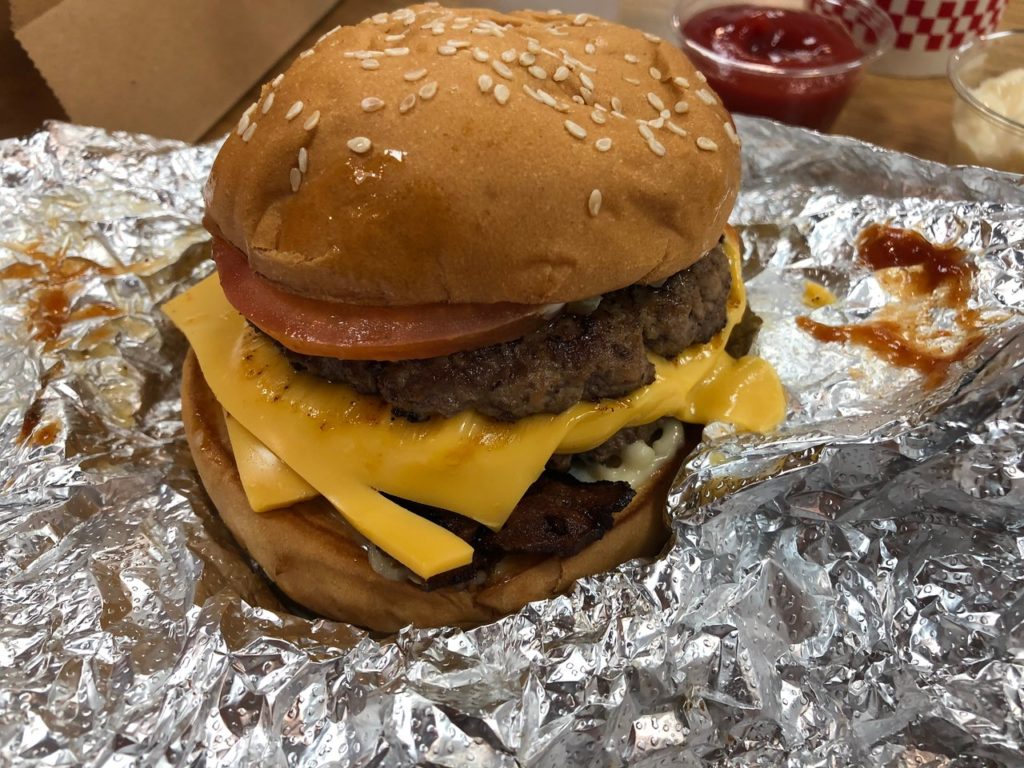 Prices are a bit on the high side: Little Burger (1 patty) 7.15 euro and a Bacon Cheeseburger (2 patties) around 11 euro but they are worth every single cent!
Free fries
With every fries, Five Guys gives you more. An extra half or full scope depending on what you order, you always get more fries for free!
Five Guys Dundrum delivery
You can order Five Guys on both Deliveroo and Just-eat to get them in the comfort and safety of your home. Use our Deliveroo discount code to get €8 off your orders ? Deliveroo promo code.
Five Guys Just Eat
Order Five Guys on Just Eat to get them straight to your door with no hassles. Whether you're looking for your favourite takeaway or looking at something new, when you order from Five Guys, you won't be disappointed and there is always an extra scoop of fries!
Five Guys Deliveroo
Order Five Guys delivery near you with Deliveroo, get €8 off your orders with our Deliveroo promo code. Order freshly ground beef burgers, perfectly cooked hotdogs and Cajun style fries from Five Guys and enjoy your burger.
Hot Dogs
All-Beef Hot Dog
Cheese Dog
Bacon Dog
Bacon Cheese Dog
Burgers
Hamburger
Cheeseburger
Bacon Burger
Bacon Cheeseburger
Little Hamburger
Little Cheeseburger
Little Bacon Burger
Little Bacon Cheeseburger
Ci dispiace non ti sia piaciuto questo articolo!
Aiutaci a migliorare.
Cosa potremmo migliorare in questo articolo?