[Total:

2

Average:

4.5

/5]
What makes Five Guys better than the others?
Order freshly ground beef burgers and Cajun style fries from family-run chain Five Guys and enjoy endless ways to customise your burger.
Run by the same Virginia family since 1986, they have been frying up their fresh prime beef burgers to international acclaim.
The Five Guys chain apparently looks like any other fast food: Mcdonald's, KFC, Burger King or SuperMac but that's a lie! If you're looking for a place different from the usual where you can taste new beers not available elsewhere Guinness Open Gate Brewery is your place. Let's see what's on the Five Guys world-famous menu.
If you're in Dublin, there are three stores: Dundrum Town Center, Frascati Shopping Center (Blackrock) and Great George's Street. The menu is the same across all stores.
They're passion for food is shared with our fans, which is why we never compromise. Fresh ingredients hand-prepared that satisfy your craving.
The three store are strategically placed to server the city center (Great George's Street), Dublin south (Dundrum Town Center) and the south coastal area (Frascati Shopping Center, Blackrock).
Cook-to-order
Five Guys cooks your order while you wait, there is no precooked food waiting for you. This applies to their hamburgers and hotdogs as well. French fries are the only not cook-to-order due to the large volume they sell.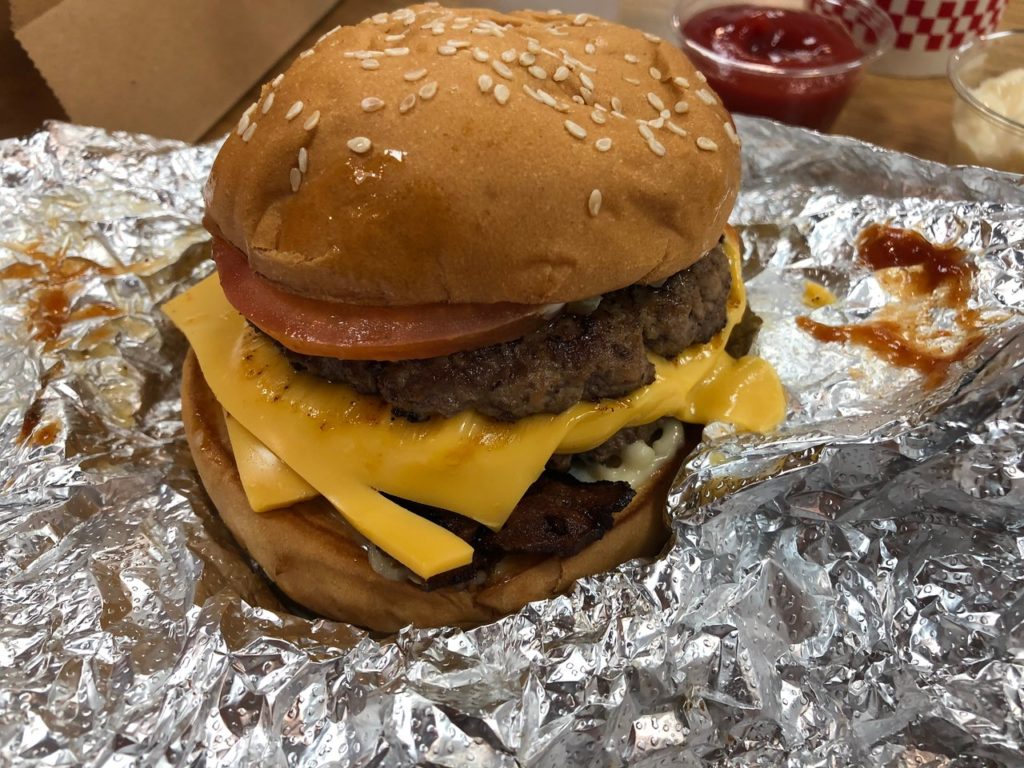 Prices are a bit on the high side: Little Burger (1 patty) 7.15 euro and a Bacon Cheeseburger (2 patties) around 11 euro.
You can order Five Guys on Deliveroo if you're area is covered.
Five Guys menu
DOGS
All-Beef Hot Dog
Cheese Dog
Bacon Dog
Bacon Cheese Dog
BURGERS
Hamburger
Cheeseburger
Bacon Burger
Bacon Cheeseburger
Little Hamburger
Little Cheeseburger
Little Bacon Burger
Little Bacon Cheeseburger
SANDWICHES
Veggie Sandwich
Cheese Veggie Sandwich
Grilled Cheese
BLT