Carrickreagh Bay in Enniskillen is a luxury glamping location directly on the beautiful Lough Erne (Lough Shore Rd, Enniskillen BT93 7EN, United Kingdom). Located just few miles north of Enniskillen, Carrickreagh Bay houses ten luxury pods in what was a quarry, now abandoned. Each of the self-contained pod can accomodate two adults and two kids.
Carrickreagh Bay Luxury Glamping
Carrickreagh Bay Luxury Glamping faces Lough Erne, giving guests a breathtaking view on the lake. The location is strategically located to offer a base for guests visiting Northern Ireland and its beauties like Marble Arch Caves. Each glamping pod faces the lack and allows for unparalleled sun sets and sun dawns.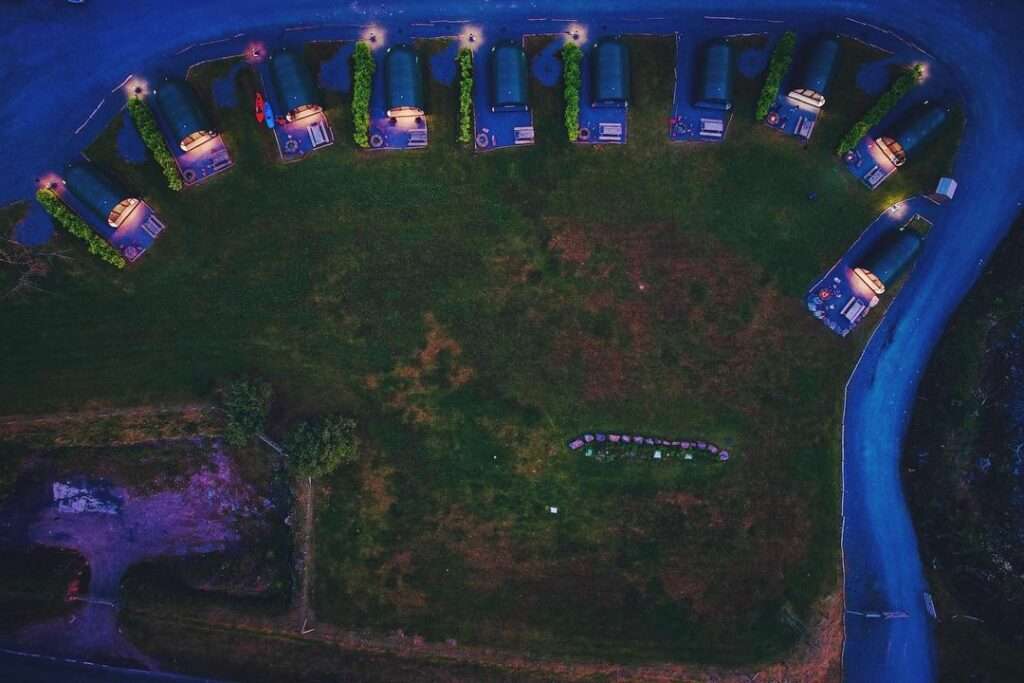 Pods offer beds up to two adults and 2 kids, en-suite facilities with full height shower and fire pits. Carrickreagh Bay is within 10/15km from lots of pub, restaurante and eateries including Lough Erne Resort. Free private parking is available onsite.
Please note that this glamping site does not provide Wifi and mobile coverage in the area may be spotty.
Enniskillen
The town of Enniskillen is just 8 miles south of Carrickreagh Bay. Enniskillen is nestled in a lovely waterside setting nad it is the perfect location to explore the surrounding of County Fermanagh.
Enniskillen gets its name from the irish Inis Ceithleann – Cethlenn's Island. The Enniskillen Castle is one of the most important things to see around, it was first built in the 15th century and today it holds two museums.
Fermanagh County Museum focuses the attention on the county's traditional rural life and crafts. Inniskillings Museum tell the military history of the area, displaying memorabilia from the 17th century.
Once you've run out of trails from Carrickreagh Bay, stretch your legs with the 5km cycle path from Enniskillen to Castle Coole on the outside of the town.
If you're looking for something unusual to see, check out the Marble Arch Caves and their Marble Arch Caves Global Geopark. From there you can explore underground rivers, waterfalls, passages and chambers. Marble Arch Caves is a major tourist attraction, set in the picturesque foothills of Cuilcagh Mountain just 40 minutes from the glamping site.
Carrickreagh Bay Further Space
Carrickreagh Bay is one of the many locations served by Further Space pods. Further Space focuses on providing a luxury glamping experience to everyone with no need to take a plane!
By partnering with local hosts, Further Space gains access to relaxing sites by the Sea, in the Mountains, on the Lough or nestled in scenic farmland. The pods are the same across all sites, with comfy beds and warm showers ready to welcome you.
Each pod is fully furnished with an ensuite shower, all comforts of home, linens, towels and toiletries. Thanks to a state-of-the-art insulation, pods are warm all year round and for those extra cold days heating is available.
Between the Queen size bed and the ensuite there is a mini kitchenette fully stocked with cups, glasses and cutlery for 4. A fire pit is provided on the outside of the pod for you to enjoy the evenings while drinking a glass of wine.
Book a luxury Further.space glamping pod at Carrickreagh Bay Glamping in Fermanagh and escape to a peaceful location surrounded by nature. Carrickreagh Bay is the perfect peaceful getaway.
Glamping locations
At time of writing, Further Space luxury pods are available in 8 locations across Island of Ireland and Scotland. Glenarm Castle, Black Knowe, Thornfield Farm, Carrickreagh Bay, Hillhead Farm, Cardross Estate, Kinelart and Leitrim Lodge are locations you can book online today.
Carrickreagh Bay pictures
Carrickreagh bay is situated in Enniskillen in the Fermanagh County region. The Further.Space glamping pods are very close to Lough Erne and offer guests unparalleled views of the nature surrounding. From the lookout point hidden in the wooden forest to a fiery sunset over the lake.
If you looking for a framed poster of nature around Fermanagh, Enniskillen and Carrickreagh bay, make sure you check out DronePhotoGuy's shop for some of the best fine art prints, canvas and framed posters.
Ci dispiace non ti sia piaciuto questo articolo!
Aiutaci a migliorare.
Cosa potremmo migliorare in questo articolo?